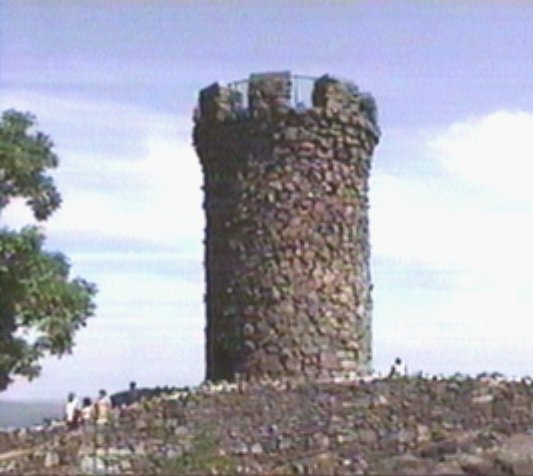 Castle Craig; Meriden, CT
Castle Craig
On the west side of Meriden is the jewel of the city's parks. Hubbard Park: 1,200 acres that was given to the city as a place for recreation. It's a place for walks, picnics, frisbee, dog walking, fishing by youth (15 & under) at Mirror Lake and general enjoyment including a swimmimg pool, band shell and hiking. In April the annual Daffodil Festival is held there, but the absolute best thing is Castle Craig.
Castle Craig sits atop East Peak and at nearly 1,000 feet above sea level is reportedly the highest point within 50 miles of the East Coast. The drive to this high point is 3 miles from the gate at the bottom. You can see Long Island Sound on a clear day from the top of the battlements. Sleeping Giant State Park in Hamden can also be seen as well as Hartford to the north. Also it's a great place to go with a still camera, camcorder, or binoculars as the view is absolutley stunning. Come Visit Meriden's best known attraction.
Admission: Free
Directions: NORTH - Interstate 91 south to interstate 691 west; exit 6 right on to Lewis Avenue. Take 5th right (West Main Street), follow through town past McDonald's, past Hubbard Park Pizza, watching for right hand entrance to park (Mirror Lake Rd. past skate house and small parking lot). Then follow Mirror Lake Road to end at stop sign, turn left and the gate will be in front of you ahead.
SOUTH - Interstate 91 north to exit 17 (Rt. 15 North) to exit 68w (interstate 691 West, take exit 6 (Lewis Avenue.) follow from exit 6 instructions.
WEST - Interstate 84 to Interstate 691 exit 4, right W. Main St., Left Mirror Lake Rd. (1st. left) follow from above Mirror Lake Rd.
EAST - Rt. 66 into Interstate 691 follow from exit 6 above.