Ghost - (Color/PG-13/1990) Patrick Swayze, Demi Moore, Whoopi Goodberg , A real tear jerker that won an Oscar, often called a date movie; this is a great romance, drama, fantasy. Patrick Swayze stars as a man who is murdered and his ghost is bound to earth. He finds that he was murdered by a hitman hired by a co-worker over a multi-million dollar account. This movie is both romantic and dramatic with a finish that brings tears to the eyes. A true must see!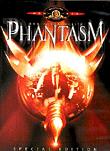 Phantasm (Color/R/1979) Mike Baldwin, Bill Thornbury, Reggie Bannister, Kathy Lester, Terri Kalbus, Angus Scrimm - A sinister undertaker, The Tall Man (Angus Scrimm) is taking the bodies of the dead to build an Army. Brothers Michael & Jody Pearson (Baldwin, Thornbury) and friend Reggie (Bannister) must stop him. Produced and directed by D.A. Coscarelli; this is a good horror film produced on a low budget.

Phantasm II (Color/R/1988) James LeGros, Reggie Bannister, Angus Scrimm, A. Michael Baldwin. The Sphere Is Back!
James LeGros takes the role of Michael Baldwin in this sequel to the 1979 horror film of the same name. Michael (LeGros) and Reggie (Bannister) set out to stop The Tall Man (Scrimm) in this follow up to the 1979 original.

Phantasm III: Lord Of The Dead (Color/R/1994) Reggie Bannister, A. Michael Baldwin, Bill Thornbury, Angus Scrimm.
We Tried To Warn You. If You Don't Get It This Time We're Going To Have To Drill It Into Your Head! The 3rd installment in the saga of The Tall Man. The battle to stop The Tall Man (Scrimm) in this film continues as Michael (Baldwin) becomes the target of the Tall Man and his conversion process from human into (well, we are really not sure what)!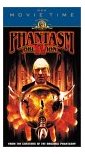 PHANTASM IV: OBLIVION (Color/R/1998) A. Michael Baldwin, BillyThornbury, Reggie Banister, Angus Scrimm. By reading the back of the DVD case, you will get the inclination that this film is going to deliver closure to the series. This is hardly the case. A return to the original in terms of being scary. Not nearly as comedic as Phantasm III, which was my personal favorite of the series, but Reggie's (Banister) luck with women again delivers some well-timed comic-relief. Unlike previous movies, Reggie is not the center of attention in this movie. The plot revolves mostly around Mike (Baldwin) and his struggle to cope with his change and to discover the origin of the Tall Man (Scrimm), which is dabbled into, but again not fully explained, and is also quite contrary to what is expected. The movie has all the makings of a great horror film, but the promise of a final showdown is not fulfilled. Other than those gripes, the movie is left open either for a sequel, or would lead the viewer to believe that the whole chain of events from Phantasm all the way up to Phantasm IV can be altered, and that our heroes have been given a chance to stop the Tall Man before his diabolical plans can be consumated. Good movie overall, as a fan of the Phantasm series I thouroughly enjoyed it. Phantasm and horror fans alike will enjoy this movie. Hope for a final movie!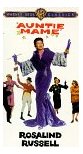 Auntie Mame (Color/1958) Rosalind Russell, Jan Handzlik, Peggy Cass, Forrest Tucker. Remember darlings "Life's a banquet, and most suckers are starving to death." That tag line sums up this exuberant and immensely amusing 1958 comedy that can be seen repeatedly, as it never grows stale. Mame Dennison (Russell) is the flamboyant aunt who takes in poor orphaned Patrick (Handzlik). Mame, all glitter and martinis, raises her nephew in a world filled with acceptance and her oddball literati friends. Nothing is too bohemian. This unfolds in colorful episodic segments that allow us to watch Patrick grow as Mame oversees his unusual upbringing while she juggles a few spouses and an extended household. Russell, who created the title role for the stage, simply shines. She is bright and brassy, but never goes too far over the top. Peggy Cass is a comedic delight as her befuddled secretary, and Coral Browne brings class to the production as her best friend. This was based on the exuberant stage play, which in turn was based on Patrick Dennis's humorous, bittersweet novel.


Scrooge: A Christmas Carol (B&W/1951) Allistair Sim. You already know the story here, right? The Allistair Sim version is in my opinion one of the best versions of this often filmed adaptation of the classic Charles Dickens book A Christmas Carol and in my opinion Allistair Sim is superb, and while I have seen many versions of this tale that I have liked, in my opinion the only actor who comes close to Allistair Sim as the definitive Scrooge is Patrick Stewart. This movie comes the closest to what I Dickens' vision of this story was. Most of the dialog is staight from the book, and I think the visual side of the story is well presented. You also get the added bonus of seeing a VERY young Patrick MacNee as the young Jacob Marley. I believe Allistair Sim as the definitive Scrooge. No other actor has even come close to this performance. Watch for the "goof" in the scene where Scrooge looks into his mirror on Christmas morning; reflected behind him is a crew member peering out from the sidelines. I recommend this movie to anyone who appreciates this Dickens classic.
Photo Credits
Movie Box Photos from Amazon.com
(C) 2004 By N1LEU & Silver City Software. All Rights Reserved Worldwide